We are part of an international and inclusive network of 4 million members across the Anglican Communion, serving Christ in our communities through prayer, financial support and actively working in programmes that meet local needs. For more information about the work of Mothers' Union. See Here
Anglican 5 Marks of Mission & MU

We support those whose family lives have met with adversity in many ways. Such as supporting prisoners and their families, providing holidays and working with Refuges across the Diocese
Away From it All holidays ( AFIA)

Refuges across Newcastle Diocese

Modern Day Slavery & Human trafficking

Fishermen's Mission

People's Kitchen-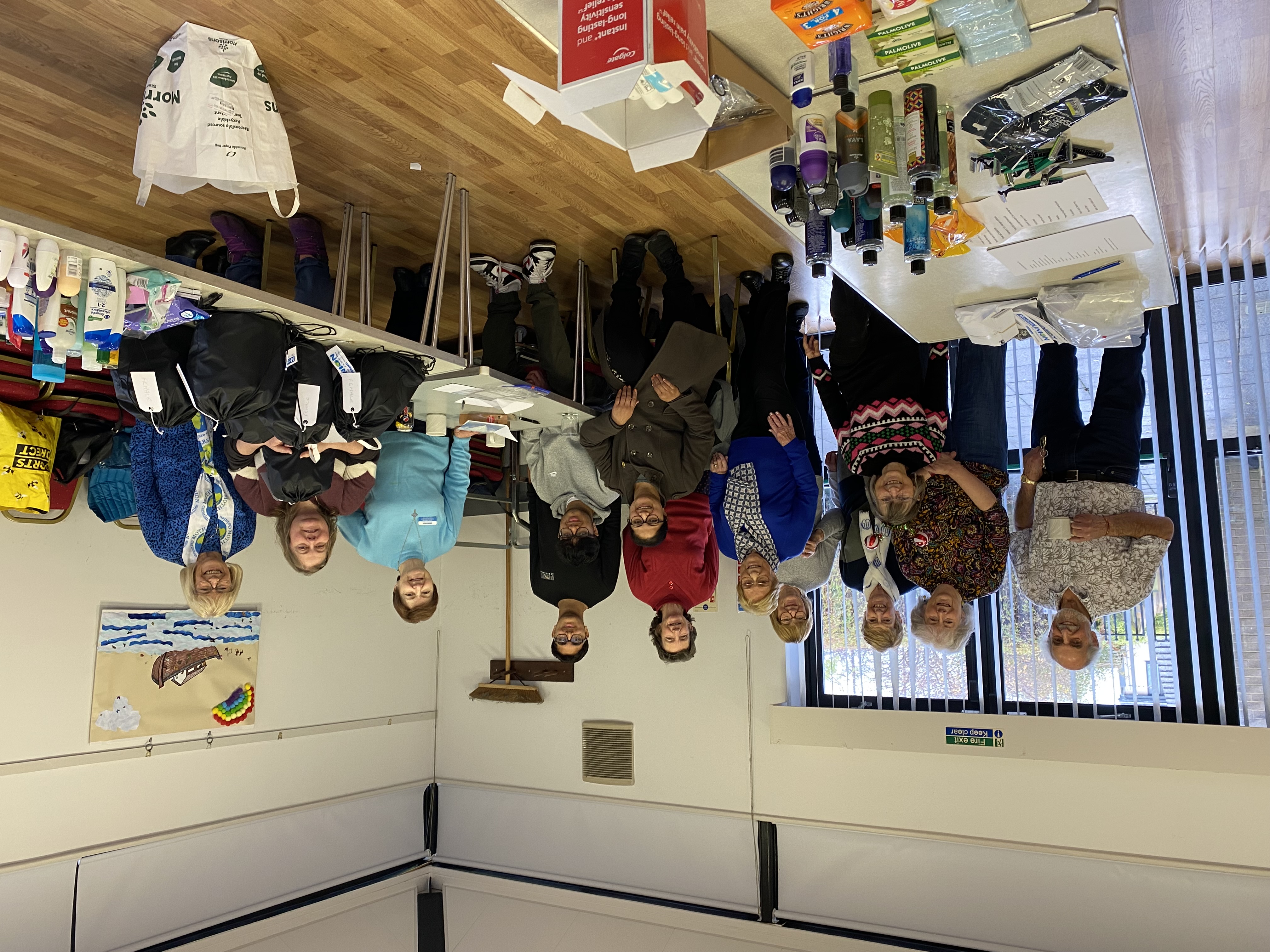 MU members packing Christmas bags for distribution to the homeless through People's Kitchen.
Thanks to Holy Nativity, Chapel House, who offered generous hospitality to enable us to pack 32 bags.
By the time all bags are collected in we anticipate over 100 bags.
Some donated items are also available for various Refuges and also for 'Fresh Start' bags.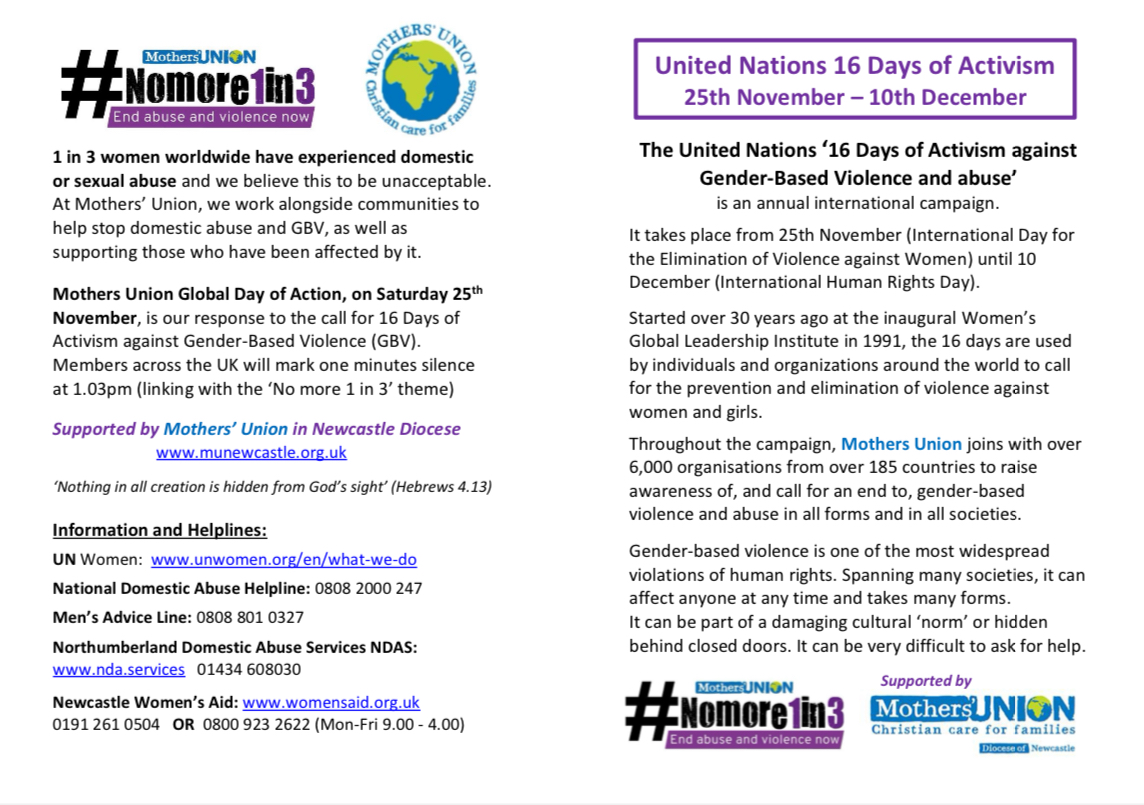 Make sure you visit the display in Newcastle Cathedral to 'Raise Awareness of the 16 Days of Activism against Gender-Based Violence and Abuse'.

Don't Forget

12.00 Midday Prayer led by MU, followed by 12.30 Eucharist in the Cathedral on Thursday 7th December, which will focus on 16 days of activism.

The service is facilitated by MU. The Dean will preside and is looking forward to meeting MU members.
Download this leaflet What can YOU do Prayers for RISE UP
Read more about the Rise Up Campaign on the MU website
More Displays across the Diocese
---
---
Prayer is fundamental to the Mothers' Union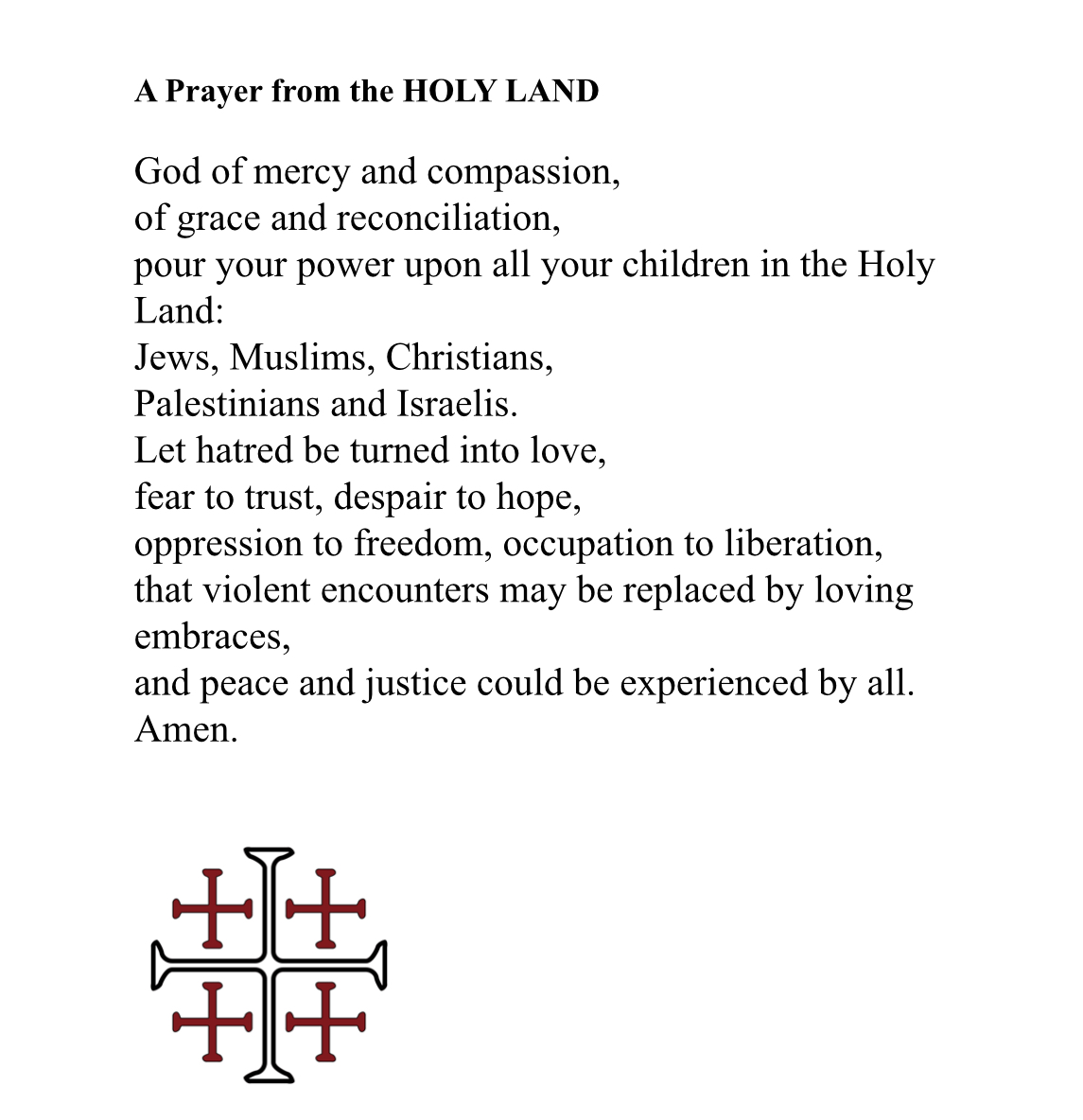 Read the Israel and Gaza - Diocesan Statement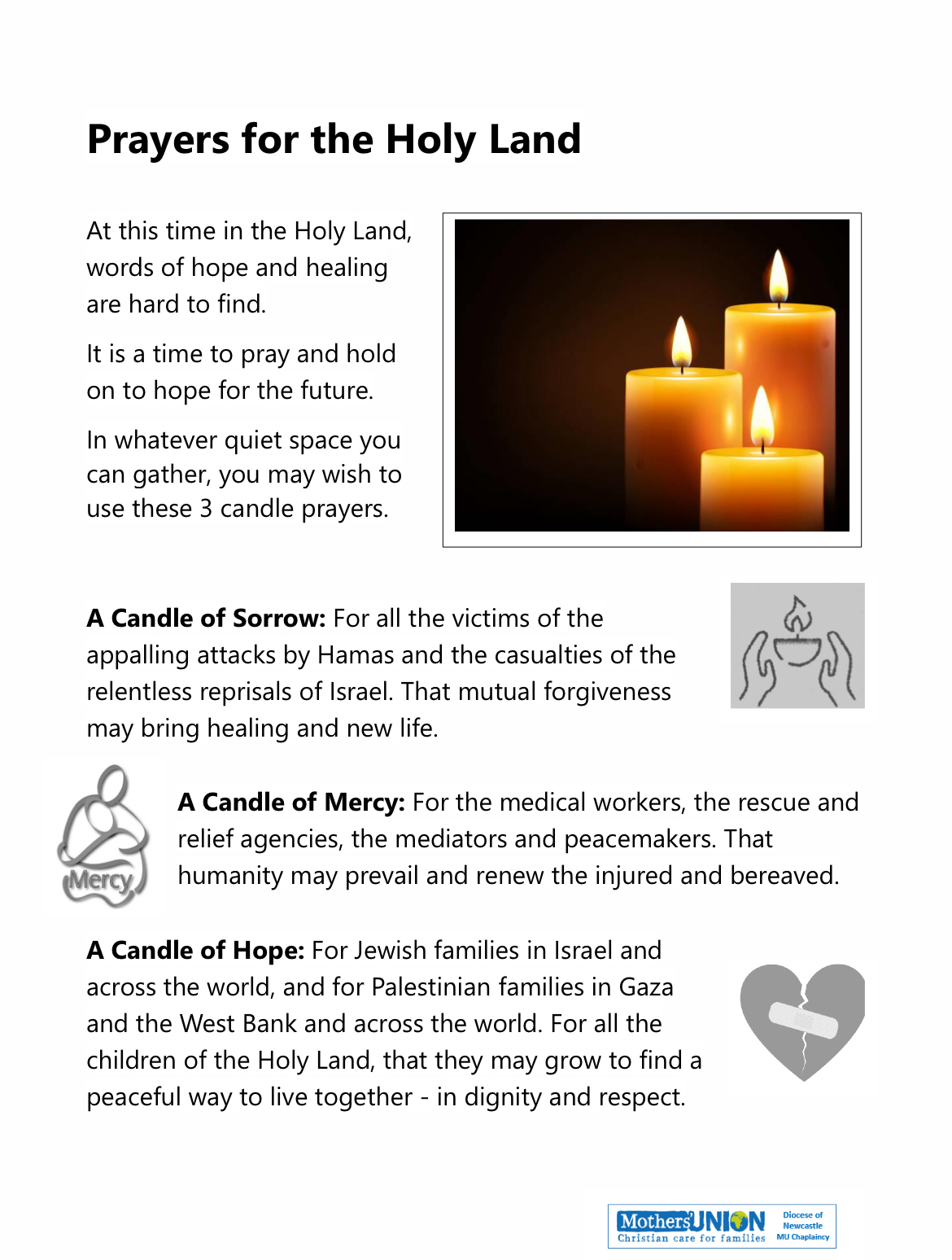 Chaplaincy Corner has a new Seasonal post: Stop Look & Listen
As members of Mothers' Union, let us pray for the mothers of the Holy Land. click on the Prayers for the Holy Land (to the left)to Download Candle Prayers.
We have a wave of prayers that travels round the world a midday, every day. We support one another and the work of MU through our prayer.

Wave of Prayers for Advent are available on the Prayer resources page available here

See our Chaplaincy posts for reflections from our Chaplain.

Midday Prayers from MSH

Branch resources

Prayer and Worship resources.
1:00 pm -
Advent Service- Hexham Abbey
2:00 pm -
West Deanery Advent Service-Holy Cross Fenham
1:30 pm -
Central Deanery Advent Service-Longbenton
12:00 pm -
Cathedral Midday Prayers led by MU
12:30 pm -
Cathedral Eucharist marking 16 Days of Activism
2:00 pm -
Tynemouth Deanery Advent Service -St. George's, Cullercoats
2:00 pm -
Advent Service -Ashington Holy Sepulchre